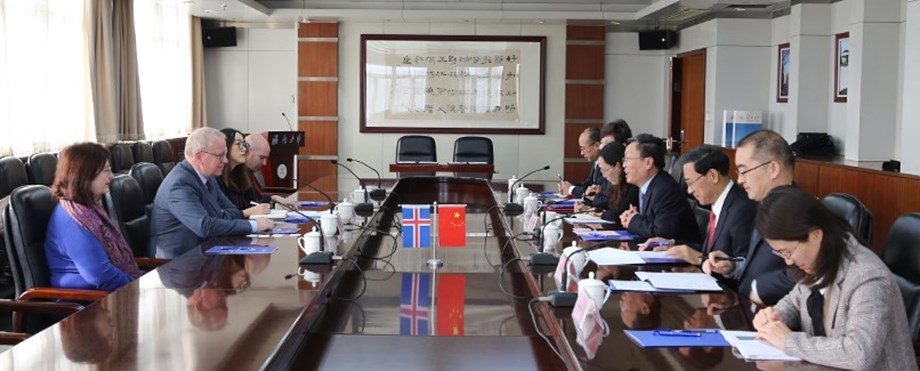 November 25. 2019
Bifröst University establishes cooperation with the University of Jinan in China and works toward empowering the Icelandic Research Center
On November 7 and 8, a delegation headed by the Rector of Bifröst University, Dr. Vilhjálmur Egilsson, accompanied by Dr. Francesco Macheda, visited the University of Jinan in China. This university has more than 37.000 students, and it is recognized as one of the most advanced educational and scientific research center of the Shandong Province, one the wealthiest and culturally important areas of China
During the visit, the two rectors signed a 'Memorandum of Understanding' which is intended to promote the cooperation and exchange of scholars and students in the fields of economics, business law and leadership, Artic and environmental politics, cultural management and alike between the two institutions.
It is worth noting that the Ambassador of Iceland in China, Gunnar S. Gunnarsson visited the University of Jinan last summer, thereby laying the foundation of the cooperation between Bifrost and University of Jinan. The exchanges between Iceland and China, in fact, have a long tradition: Iceland was the first country in Western Europe to recognize China's market economy status, and also the first in Europe to sign a bilateral free trade agreement with China.
The visit of the Ambassador of Iceland in China to the University of Jinan last June
Bifrost University will now be playing an important role in strengthening the reciprocal understanding and cooperation between the two countries. In fact, the aforementioned memorandum, which will be valid for the next three years, also states that Bifrost University will collaborate with the activities of the Icelandic Research Center, which was established by the University of Jinan in 2014. Since then, this center has been publishing on a regular basis inter-disciplinary analysis on Iceland, mainly regarding its education and environmental policies, trade relations with China, its history and culture, not to mention tourism and the broader Icelandic socio-economic system. Based on the research center, the two universities will launch several research projects aimed at deepening the mutual understanding between Iceland and China, other than further accelerating the 'internationalization' of Bifröst University, which has been a major focus development point of its higher education system over the past few years.
During the visit, Vilhjálmur was appointed as Honorary Professor of University of Jinan. Thereafter, he presented his latest work titled "Education is Lifestyle", whose main goal is to highlight the transformations of the labor market and their impact on educational policies in highly advanced countries.
The Rector of Bifröst University, Dr. Vilhjálmur Egilsson, appointed as Honorary Professor of University of Jinan
Why Bifröst?
Constant workload trains students in group and team work
Small university that emphasises personal service
We aim for personal development and social participation
Friendly campus for individuals and families
Active quality control and innovative teaching methods