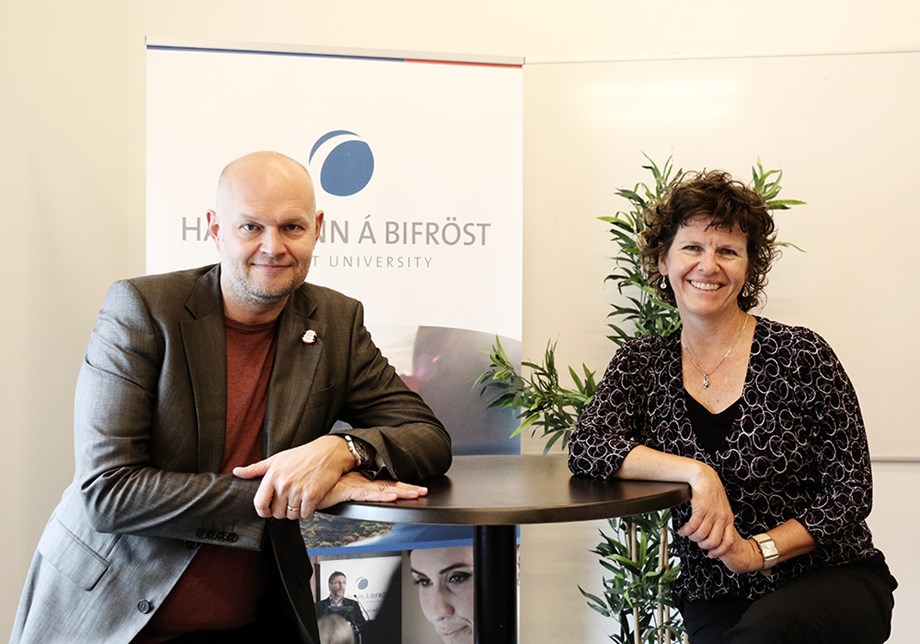 October 19. 2016
Vibrant and creative learning environment
Dr. Sherry Robinson, associate Professor of Business and Economics at Penn State University´s Hazleton campus, spends this autumn at Bifröst University´s business department, as a Fulbright exchange teacher. While also doing a research on learning games.
Sherry is in a way a "travelling professor ", having been both to Norway and Vietnam to teach. She has a future vision of a group of students from various cultural backgrounds coming together, creating a vibrant and creative learning environment.
"It is so beneficial for students to work with students from other cultures and it is my vision is to have students from here, Norway and Penn State to work on something. Normally in the entrepreneurship field when you have got a lot of diversity your chance of coming up with a good idea is increased, "says Sherry.
During her classes Sherry tries to lighten things up, engage students with various games and quizzes for them to keep on top of the material, making it more interesting. She has found it most rewarding working with a group of international students at Bifröst University this semester.
Sherry´s publications have included a dissertation on rural women´s small business owners, tracing back to the roots of her interest for business.
"My mum started a business when I was about to go into kindergarten she wanted to go to work but wanted to be at home when we got back to school. So I grew up in that and have worked with Penn State now as a business teacher since 1995, "says Sherry who holds a PhD in Management.
"I must point out how nice my colleagues, Siggi an Ingó, have been. Siggi has made a real concerted effort to make sure that I have everything I need and that i enjoy my stay here. Also, I would like to express my gratitude to Penn State University for granting me the sabbatical so I was able to come and teach here at Bifröst," says Sherry.
The video below gives an insight to Sherry´s teaching techniques.
Why Bifröst?
Constant workload trains students in group and team work
Small university that emphasises personal service
We aim for personal development and social participation
Friendly campus for individuals and families
Active quality control and innovative teaching methods